Review: Looking For A Camping Coffee Maker? How About One Inside A Travel Mug!
Note: This article contains an affiliate link to Amazon Australia. If you click through and make a purchase, we earn a small commission at no extra cost to you… and we can eat this week!

If you're searching for a suitable camping coffee maker, one that:
doesn't take up much room,
is easy to use,
is easy to clean, and
makes tasty coffee,
then the Cafflano Klassic might fit the bill.

Our friends at Hennessy Coffee handed one to us to try out. They'd had a sample unit sitting there for a while but hadn't tested it. Our job was to figure out how to use it, to see if it was any good.
So armed with a cylindrical box and a bag of quality Hennessy Coffee beans, we took up the challenge.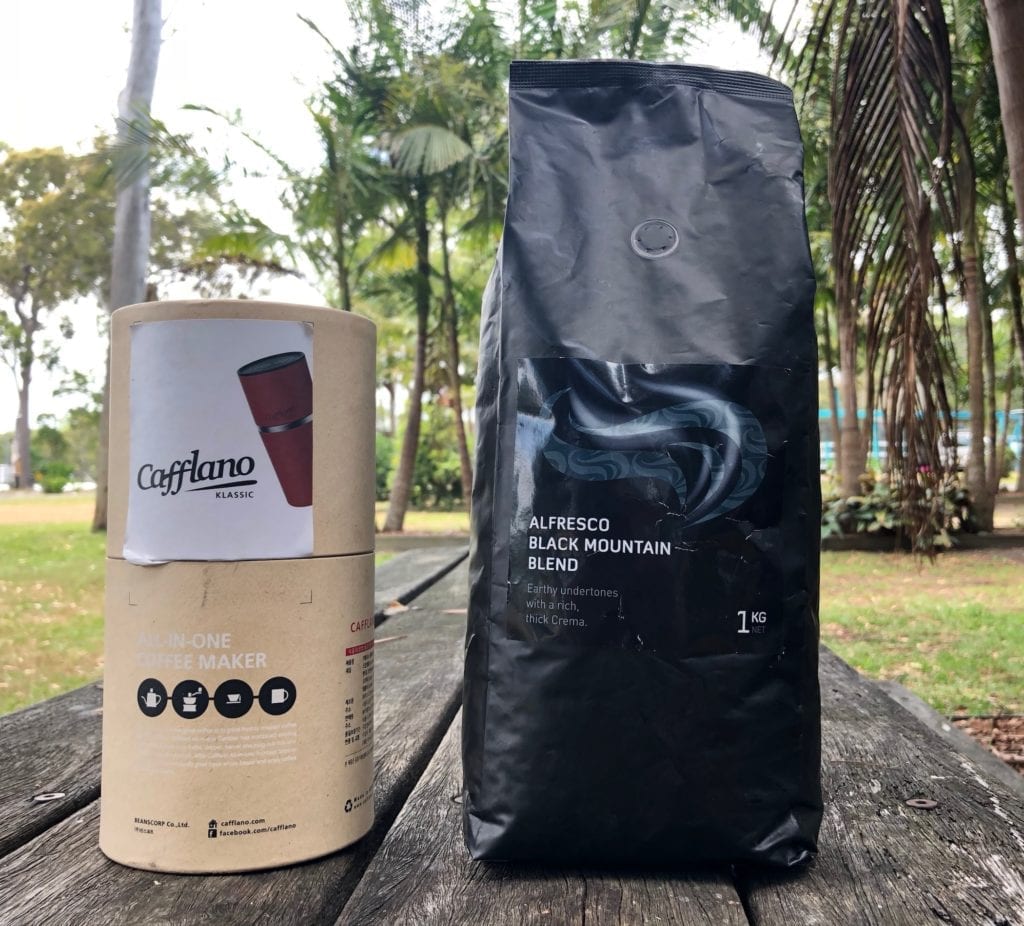 What Is The Cafflano Klassic?
It's an all-in-one coffee maker. An ingenious design, no larger than a large travel mug. This makes it ideal for camping, as it doesn't take up much space.
---
---
You get:
A drip kettle and lid. Use the drip kettle to meter enough boiling water to make enough coffee for 2 people. The lid detaches and keeps the coffee warm in the tumbler.
A quality ceramic burr-type grinder. This is adjustable, so you can grind your beans to a consistency that suits your taste.
A drip filter. This has a fine stainless steel mesh, so you don't need paper filters.
A tumbler. This holds the finished coffee.

Is It Easy To Use?
Yes, it's foolproof really:
Boil a kettle or jug,

Unscrew the drip kettle,
Pour some beans into the grinder,
Grind all the beans,
Unscrew the grinder,
Fill the drip kettle with boiling water up to the spout hole,
Pour in enough water to cover the grounds then let them soak for a 45 – 60 seconds,
Pour the remaining water over the grounds,
Remove the drip filter then sit it in the drip kettle, and
Drink!

This might seem like a lot of steps, but it's not. This video made by Cafflano, shows you how simple the process is.

But… there is one catch.
All the brews we made were quite weak. We were scratching our heads, trying to figure out how we could possibly change it. We tried pouring the brew back through the drip filter, with mixed results… and plenty of mess!
---
---
Then we chanced on this page, showing how the grinder can be adjusted to make the grind finer or coarser. We didn't realise we could do this. The supplied instructions don't mention it, and it hadn't occurred to us.

So we played around with the grind until we were both happy with the coffee's strength.

And The Taste…?
This of course depends on the beans you're using. For us, the taste is just a little bitter. Having said this, it's way better than any other small (and some large) coffee makers we've used… with the exception of the Bialetti Mukka.
Update: We've solved the bitterness issue! We simply wait a minute or two before pouring the water in to let the grinds soak. No more bitter taste!
This is still our favourite. The Bialetti Mukka makes beautiful creamy coffee. The downside is, it's difficult to clean when water is limited. So the Bialetti is probably not your ideal camping coffee maker, unless you're in a caravan park with plenty of water available. And I'm pretty sure Bialetti don't make the Mukka any more. A tragedy really…

Easy To Clean?
The Cafflano Klassic is easy to clean. You have a bit of mess from the drip filter. That's to be expected. But the drip kettle, grinder and drip filter are easy to wash out in water.
The tumbler needs to be washed out with detergent, just as you would wash a coffee cup.
---
---

Would We Buy One?
Hmmm, well… Yes the Cafflano Klassic is a clever design, compact, easy to use and to clean. However the price is a shock, it seems expensive at first.
On the upside, there's no waste… no pod packets or filter paper to dispose of. And the coffee does taste good, no doubt. Even better, the compact design really does make it a viable option as a camping coffee maker.
On the downside, it does seem expensive at first. I think this is because it looks like a travel mug. But when you think about it, it's way more than a mug.
And it does make pretty good coffee. So maybe it is worth the money…
Update: Since we solved the bitterness issue, we use the Cafflano Klassic every day. We've perfected the brew and love the taste. And yes, we wouldn't hesitate to buy one now.

You can buy the Cafflano Klassic here.


---
Access Traveller's Guides… and a whole lot more at our FREE RESOURCES Page!
---
Any questions or comments? Go to the Comments below or join us on Facebook or Twitter.
Any errors or omissions are mine alone.
---
Note: We were given the Cafflano Klassic to review by Hennessy Coffee. (Having said this, all our reviews are honest – we tell it how it is).
Note: We are not affiliated with Cafflano or Bialetti in any way.
---
---